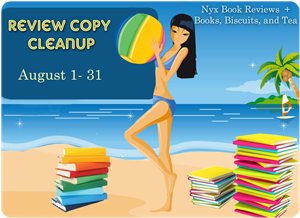 This past month I participated in
Review Copy Cleanup
- a month long reading challenge to get as many books read and reviewed from our review piles. I found this challenge really satsisfying and will probably be extending this challenge for myself into the next few months.
Here's what I read this month:
Juniper Crescent by Tony Graff
Starters by Lissa Price
Defy the Stars by Stephanie Parent
Nikolas and Company: The Merman and the Moon by Kevin McGill
A Greyhound of a Girl by Roddy Doyle
Slide by Jill Hathaway
The Lifeguard by Deborah Blumenthal
Protostar by Braxton A. Cosby (DNF)
Death Sentence by Rhiannon Paille
That's 9 BOOKS! Okay, 8 + 1 DNF. My goal was 6 books, so I'm very happy with that.
Unfortunately some of these I didn't enjoy too much (Starters was a frustrating read for me and I couldn't even get through Protostar), but I did enjoy the process of getting them all read and my reviews for most of the books I didn't post yet will be up soon. Stephanie Parent will also be in for an interview and giveaway!
My favourite books were Nikolas and Company, Slide, and Death Sentence. If you are looking for recommendations I'd definitely check those out first.
I hope everyone else had fun doing this challenge. If you participated, feel free to leave me a link. I'm curious to see how everyone else did :D