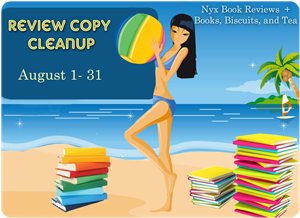 I mentioned
earlier this month that I was joining the Review Copy Cleanup
challenge hosted by
Nyx Book Reviews
and
Books, Biscuits, and Tea
.The readathon is for all of August and technically started yesterday. Today, after finishing my current read, I dived into the challenge!
I currently have
31 books
(ebooks and physical) sitting on my TBR shelf.
My goal for August
is to read 6 books. That's the realistic goal anyways. My shoot for the stars goal is 10 books. Here's crossing my fingers that it's closer to the higher number!
Updates:
I'm going to use this section for updates. I'll list the books I've started and then cross them off when I finish with a total completed at the bottom. I need this to keep myself motivated.
Books Started -
Juniper Crescent by Tony Graff (currently: 285/285)
Starters by Lissa Price (currently: 335/335)
Defy the Stars by Stephanie Parent (100%)**
Long Lankin by Lindsey Barraclough (53%)**
Nolichuck by Jackson Keene (15/283)**
Nikolas and Company: The Merman and the Moon by Kevin McGill (100%)
A Greyhound of a Girl by Roddy Doyle (100%)
Slide by Jill Hathaway (100%)
The Lifeguard by Deborah Blumenthal (100%)
Protostar by Braxton A. Cosby (83/353)
DNF
Death Sentence by Rhiannon Paille (12/33)
Touch of Power by Maria V. Snyder (18%)
** I started these before the readathon began.
Total books finished: 7
DNF: 1